Ahh, February, the month of love. We know just as much effort it takes to find the best place for a romantic stroll in the city, ad this is why we have created a list of London's most romantic spots, perfect for dreamy dates in the capital. From walks along Little Venice to stargazing at Royal Observatory and telling secrets at the Whispering Gallery, we have you covered.
Notting Hill
Notting Hill doesn't need an introduction. If you haven't seen the film, Valentine's Day is the time to watch it. If you would like to visit one of the film's locations, Hugh Grant's character's famous bookstore is located at 142 Portobello Road. And even if you don't, Notting Hill is just a very romantic place to visit. From colourful houses to hundreds of antique and specialist shops and stalls at the famous Portobello Road Market, there's something for everyone.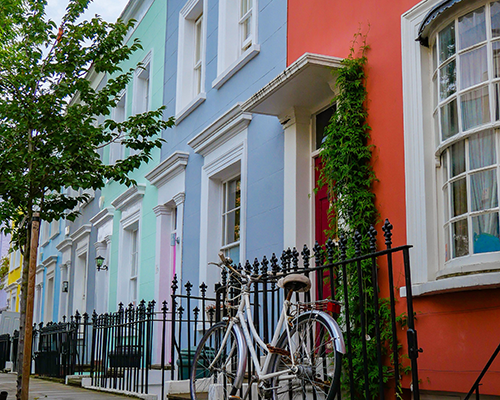 Gordons Wine Bar
If you're looking to try a new drinking experience, Gordon's Wine Bar in Embarkment is the place to be. It's considered to be the oldest wine bar in London and has a very relaxed vibe with a 600-year old history. With candles burning on every table, this bar in a cave is a great place for a first date, or for couples who would like to try something different.
Primrose Hill
If you would like to feel like you're alone with your loved one, then viewing the skyline of central London on Primrose Hill, especially at night when the city lights shimmer and sparkle in the distance, is perfect. Primrose Hill might be the best place to watch the sunrise in the city.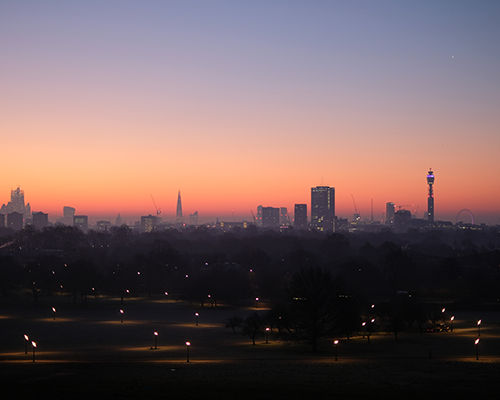 The Meeting Place at St Pancras
The Meeting Place, a famous 30-foot sculpture of a couple embracing in St Pancras station is often called The Lovers by many people. Created by the sculptor Paul Day, it was installed when the station was renovated in 2007, as the name suggests, it's a perfect place to meet for a date.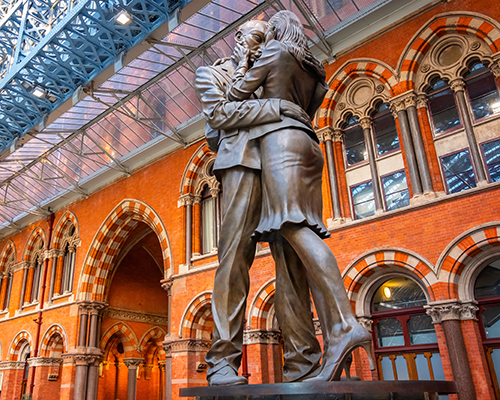 Little Venice
We already mentioned Little Venice in our posts (mostly because we find it very, very charming!), but when it comes to romantic places, we had to mention it again. Take a romantic stroll along the banks of the canal and admire its colourful narrowboats and bridges along the way. You can also stop for a quiet glass of wine in one of its many pubs.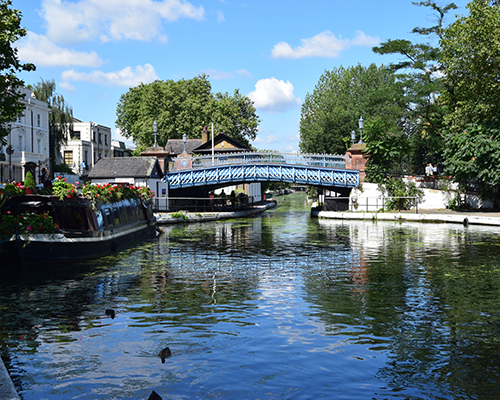 Southbank
A stroll along the river with London's iconic landmarks to feast your eyes on and many eateries to feast on will make for an unforgettable date. Stretching from Westminster Bridge to Blackfriars Bridge where it becomes Bankside, it's packed with museums, restaurants, and other interesting attractions.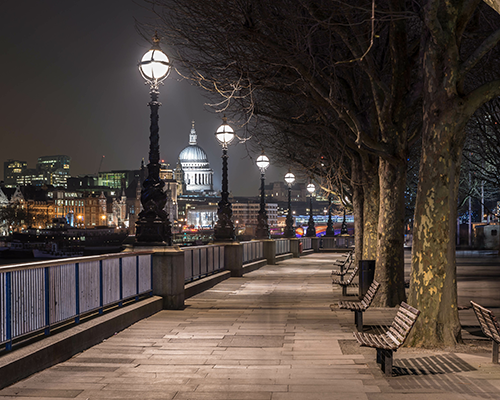 Royal Observatory
Arguably the most famous observatory in the world the Royal Observatory is deserving its proud heritage. And what could be more romantic than stargazing? Put things into perspective by peering through the Great Equatorial Telescope or taking a tour of the night sky at the Peter Harrison Planetarium.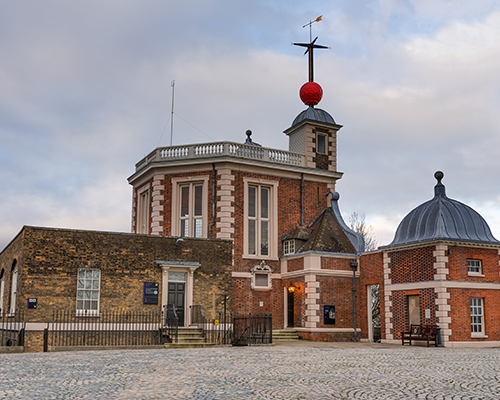 Whispering Gallery at St Paul's Cathedral
Climb the 259 steps up and enter the Whispering Gallery in the dome of St Paul's Cathedral, where you can hear someone whisper from the opposite side. Not only is it a great workout, but it's very romantic too!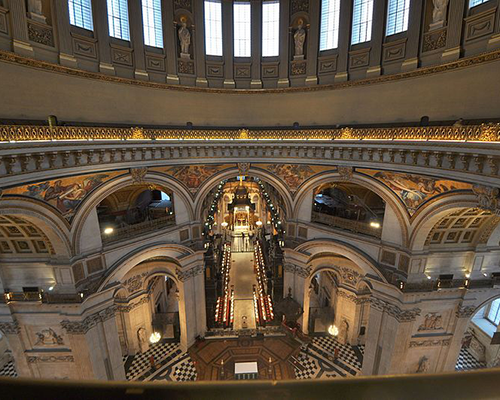 Columbia Road Flower Market
While Columbia Road is usually the site of London's famous flower market every Sunday, with the scent and sight of beautiful flowers, it's the surrounding streets that are a charming place for a romantic walk but arrive early to beat the crowds. There are many gift shops and coffee houses to enjoy as well.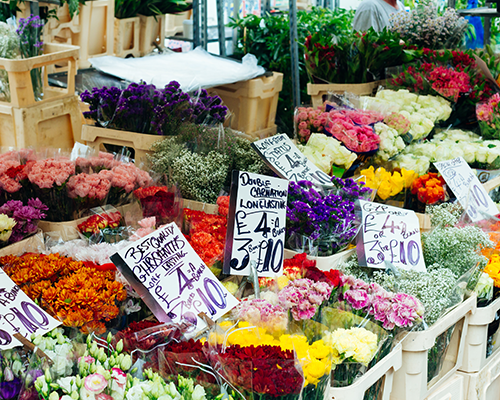 St Dunstan-in-the-East
St Dunstan-in-the-East is a hidden treasure amongst the skyscrapers in the city. Built around 1100, the church was bombed during the Second World War, however, the tower designed by Sir Christopher Wren and the north and south walls remain. St Dunstan-in-the-East is a peaceful haven from the buzz of the city and popular with workers and tourists alike.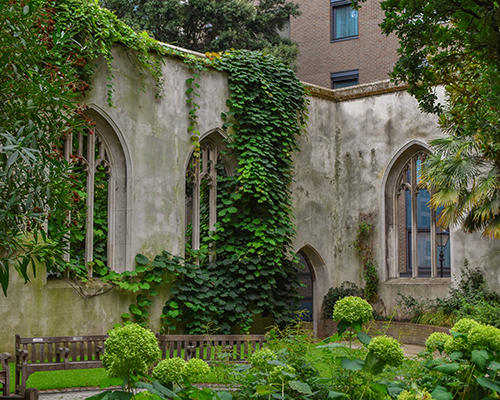 Kew Gardens
Everyone knows Kew Gardens, and if you are nature lovers like us, then you already know that this is a wonderful place for a romantic date. Set over 300 acres of land, it's not only about plants and nature. You can also visit the Marianne North Gallery, tucked away to the rear of the garden is sure to delight, take in an aerial view of the grounds on Tree Top Walkway, see the Chinese Pagoda or visit the tea rooms.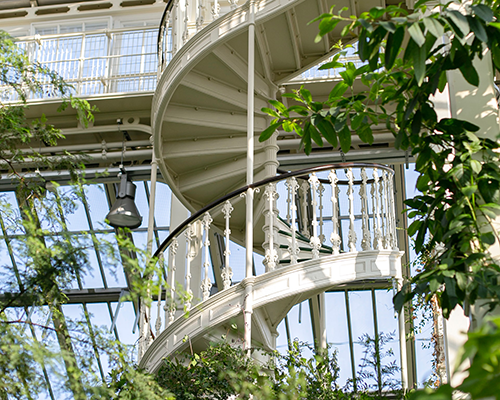 Secret Garden at Regent's Park
Regent's Parkis definitely a favourite for romantic walks. If you head to the Inner Circle in Regent's Park, you'll find an unmarked gate with a wisteria-clad tunnel. There you will find some lovely statues, park benches and lawns. It's the perfect place for a romantic stroll through the largest collection of roses in London too.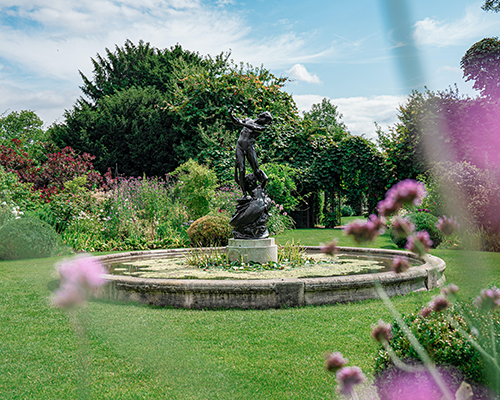 Wilton's Music Hall
Enjoy theatre and music at the Grade II-listed Wilton's Music Hall, the oldest grand music hall in the world. Whether you're seeing a show or not, you can grab a drink or a bite to eat at one of the venue's two bars, which serve seasonal food, including pizzas, salads and bar snacks, and locally-sourced drinks, including craft beers and speciality gins.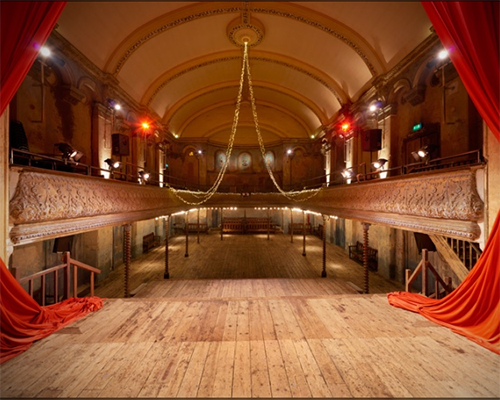 Word on the Water
If you fancy something different this time, head over to the 1920s Dutch barge 'Word on the Water' which has been lovingly transformed into a floating bookshop by Granary Square in King's Cross. As well as keenly priced books they boast a woodburning stove, friendly dog, and occasional live jazz performances. Check their Facebook page for details of book talks and events.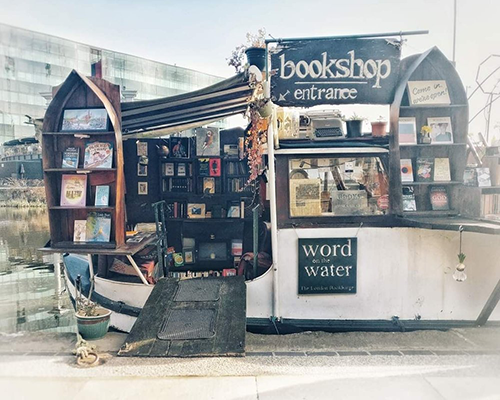 Everyman Hampstead
When it comes to offering a sophisticated, romantic, and effortlessly cool atmosphere, Everyman Hampstead cinema really does tick every single box. The venue's two screens offer armchairs, sofas (as well as a sprinkling of deluxe two-seater sofas in the larger screen) and staff serving food and drinks at your seat. The programming is a mix of mainstream and independent, so you can expect to see big blockbusters here as well as artier British and international films.