Nothing announces the festive season more than a beautiful tree.
And when it comes to decorating a Christmas tree, it seems simple right? Throw on the lights, disperse the baubles and stick whatever tradition you have on top, whether that be a star or a wooden fairy.
In reality, however, it's easier said than done. Decorating a Christmas tree is no mean feat, especially for the perfectionists among us, but if your home is your pride and joy and the tree is the centrepiece of your home come the festive season, we've got you covered.
The first thing you need to ask yourself is if you're going to go for a real tree or an artificial one? Or maybe a real potted tree? You can find sustainable trees here https://www.londonchristmastreerental.com/
Read on and discover how to create the best-dressed Insta-worthy festive fir to become the centrepiece of your Christmas ideas this year.
1. Pick a Theme
A professional-looking Christmas tree has a central look that ties the decorations together. Deciding on a theme before choosing your decorations sets the tone and gives you a clear idea on how to decorate your tree. It could be a colour palette, a certain shape of ornament or an overall theme like classic or woodland. You could also go for something more out there like Christmas at the movies or a full floral theme. You can find some ideas here.
If you are looking for colour schemes, you can never go wrong with the classic gold, but don't shy from trying something different from a fashionable rainbow look to having an all yellow tree!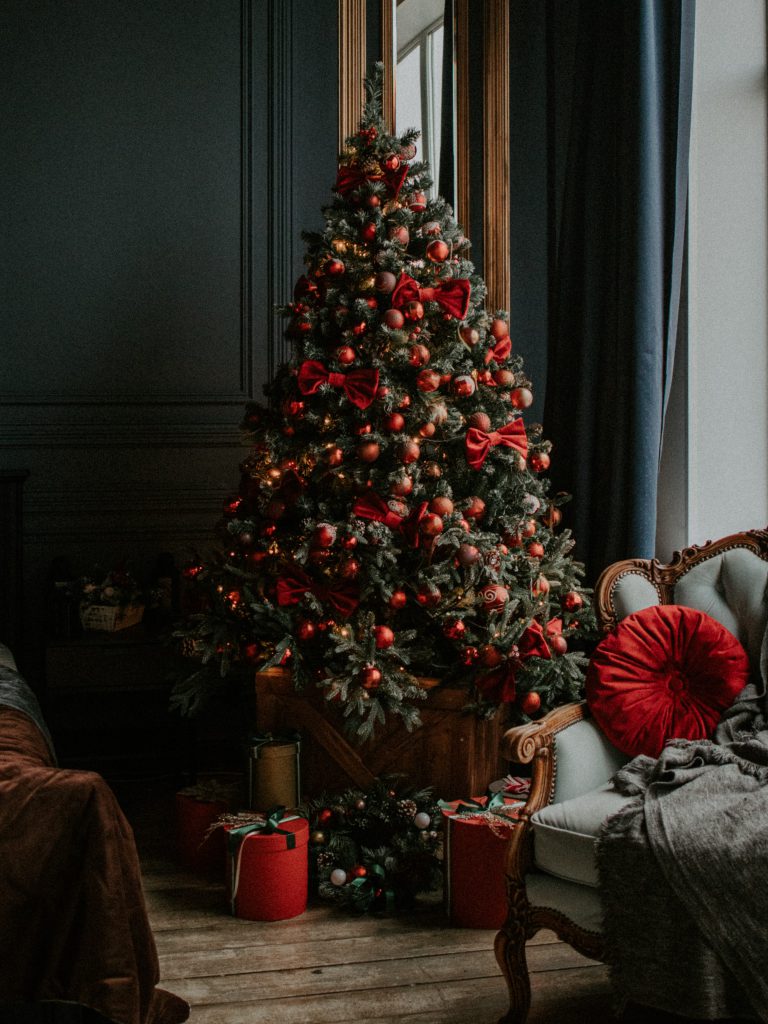 2. Fluff up the branches
Fluffing the branches helps to make your tree look fuller. This can be a very time-consuming task, but the end result is more than worth it. Start at the bottom layer and work your way up, gently straightening each tip and fanning out the branches ensuring there are no gaps.
You can also do this to a certain extent with real Christmas trees, but be gentle so the needles don't drop. Another tip – wear gloves because the branches can be extremely prickly, and you could risk a splinter. Remember – if you are using a real tree, give your tree an hour or so to drop before you start decorating.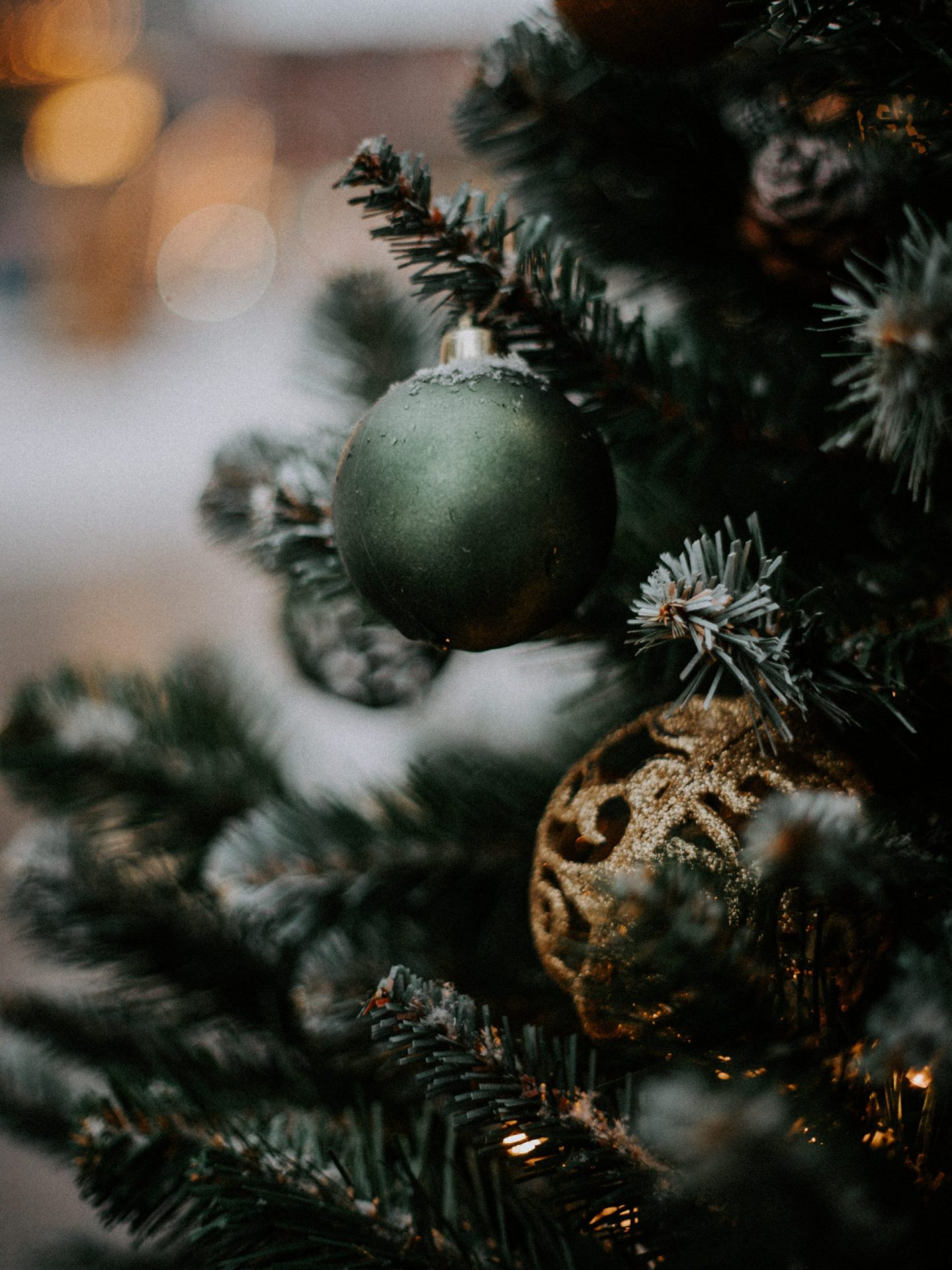 3. Start with the lights first
If your tree is not pre-lit, make sure you choose the right lights to go with it as you don't want them to clash with your baubles and other decorations. As a general rule of thumb, you should use 100 bulbs or 5 metres of lights per 2ft of Christmas tree. So for a 6ft tree, you'd need 300 bulbs or 15 metres of lights.
All sorted. Now it's time to place them on. Wrap the lights around the tree's trunk, working your way up from the centre of the base of your tree. Continue wrapping the lights evenly around the branches nearest to the trunk, and then weave it upwards from the middle of the crown.
Have a look at other ways you can use Christmas lights around your house, and a reminder – always plug the lights in first to check they work!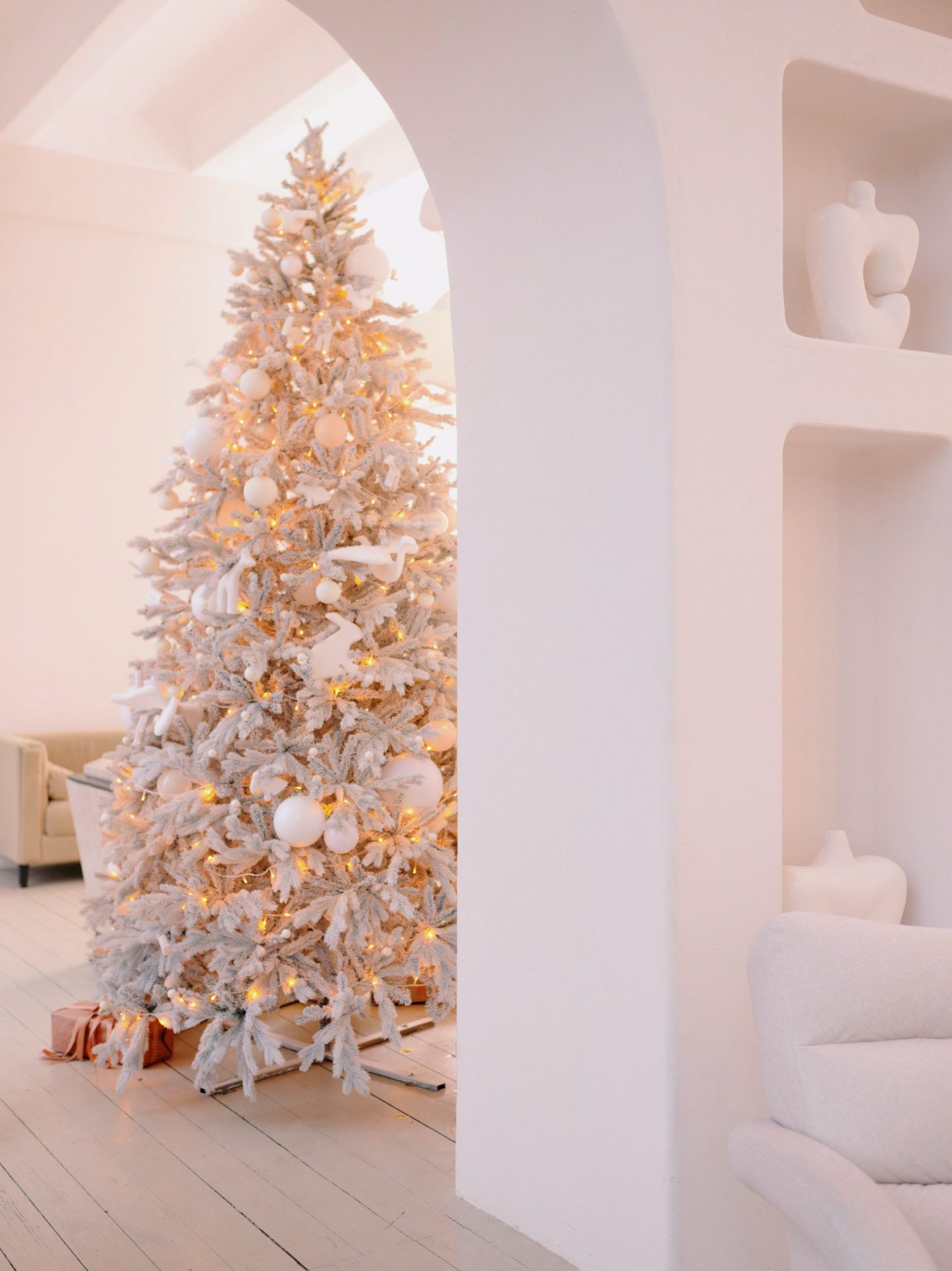 4. Choose your decorations
On to the main event. How do you arrange Christmas baubles? There really is no hard or fast rules when it comes to adding your baubles but there are things to consider if you want a nice evenly spread design that feels full and finished.
Start hanging your baubles, using larger baubles closer to the centre to give depth and use smaller ones at the end of the branches. Hang delicate baubles at the top of your tree to prevent any breakages. Limit yourself to three or four different colours, using a variety of matt, shiny and glitter decorations. This will help give your tree depth and more interest.
And how many baubles will you need? Experts suggest that you will need around 70 – 80 baubles for a 7ft tree.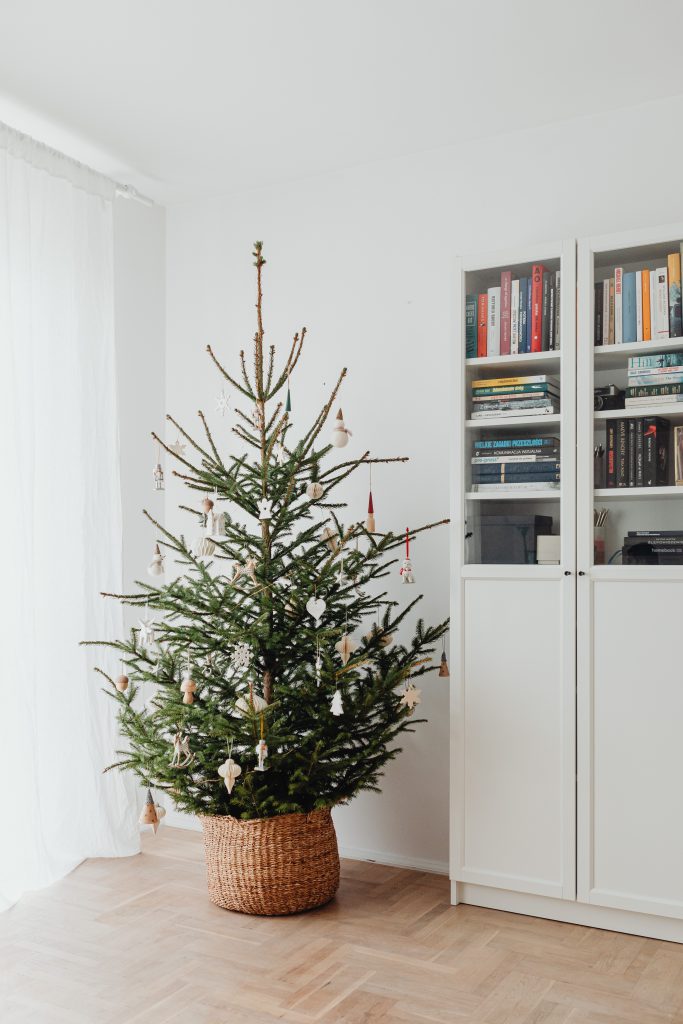 5. Layer up with ribbons
Another expert tip is to layer your Christmas tree with decorative ribbons, which will elevate your tree's aesthetic. You may use one type of ribbon or pair ribbons of contrasting textures and different widths to create more impact.
Once you have a good foundation of lights and key decorations you can add some sparkle, tinsel, ribbon, garlands, more baubles. But if you are after a minimalist look switching your baubles for a bare tree just covered in ribbon or a neutral pom garland can be really effective.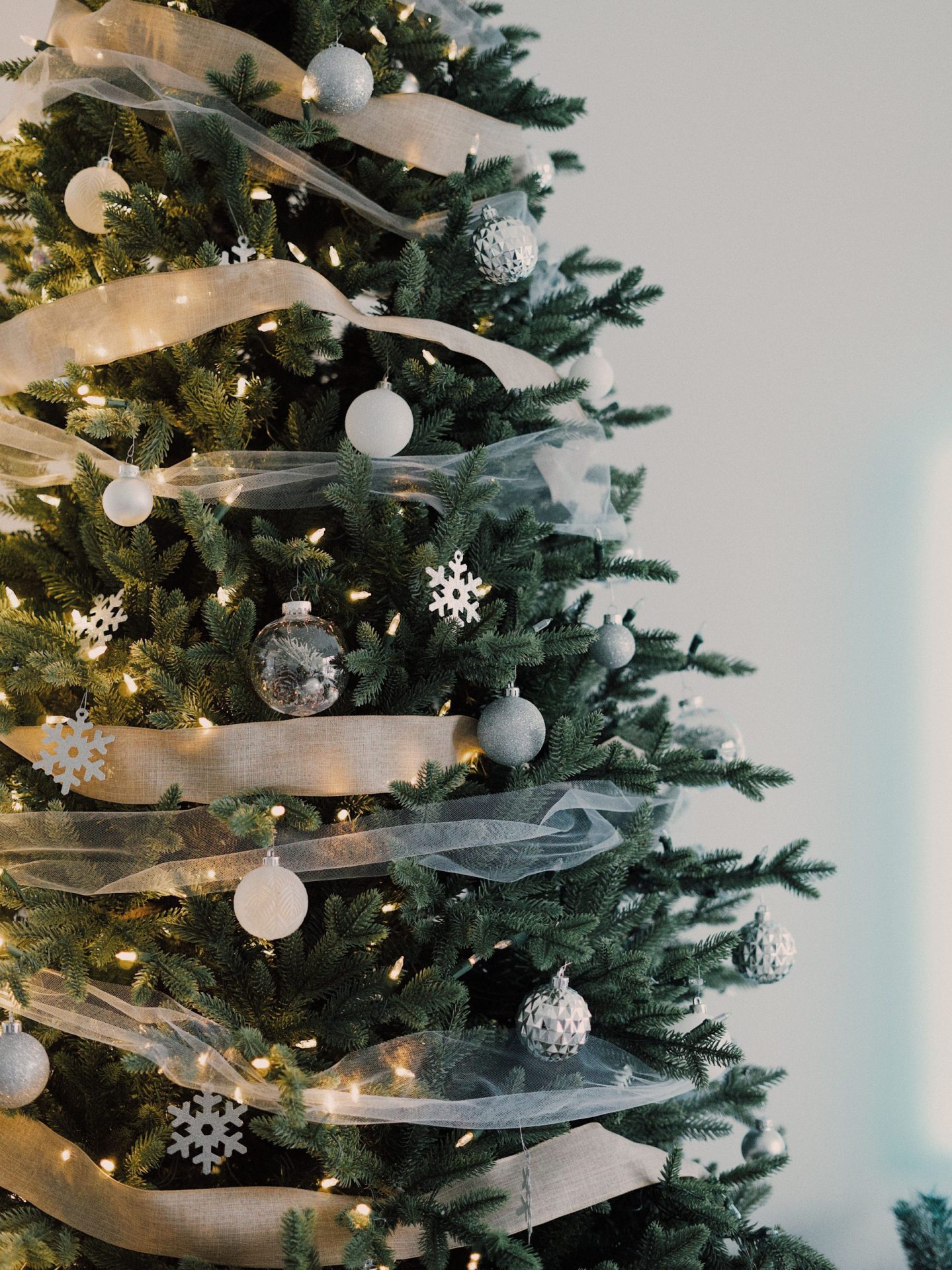 6. Use tree picks
If you've opted for a real tree, chances are even after you've covered it in lights and baubles there are going to be some gaps. But rather than trying to spin the tree around in the hope to find a better angle, fill in the gaps with extra foliage like flowers or sprigs of evergreen.
Tree picks and floral sprays come in many forms, such as decorated branches, twigs, berries, or even pinecones – use them as subtle accents to complement the entire look of your tree.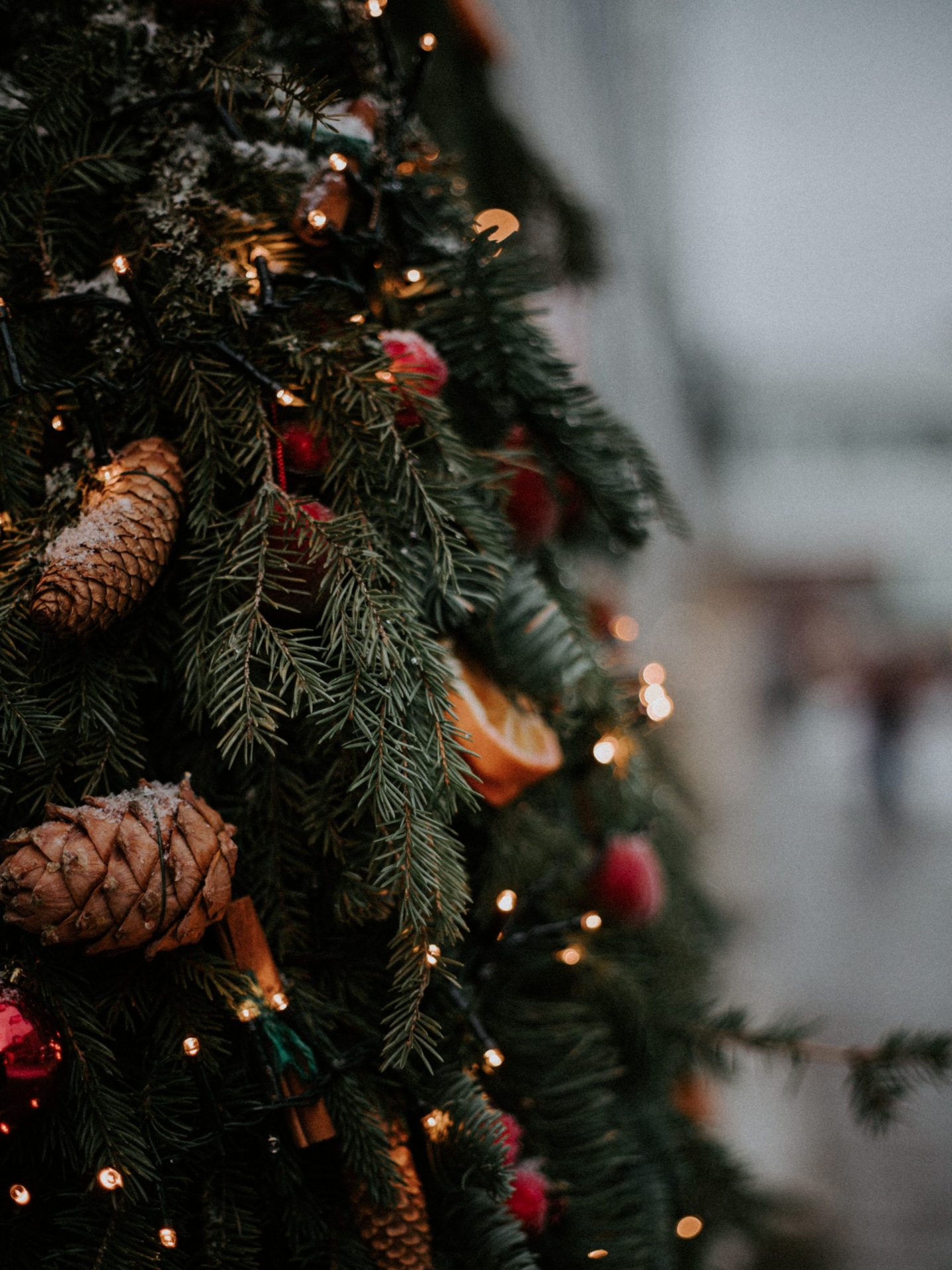 7. Add the tree topper
An eye-catching Christmas tree topper is a beautiful way to complete the designer look of your tree.
A lot of people suggest that adding your tree topper first is a better idea as it might be hard to do it when all the decorations are up, but we prefer to do it the traditional way and leave it until the end.
Make sure to choose one that best fits your theme and the proportion of your tree, and take into consideration the height of your ceiling too. A star, fairy or oversized ribbon bow are traditional options but there are so many other original Christmas tree topper ideas out there.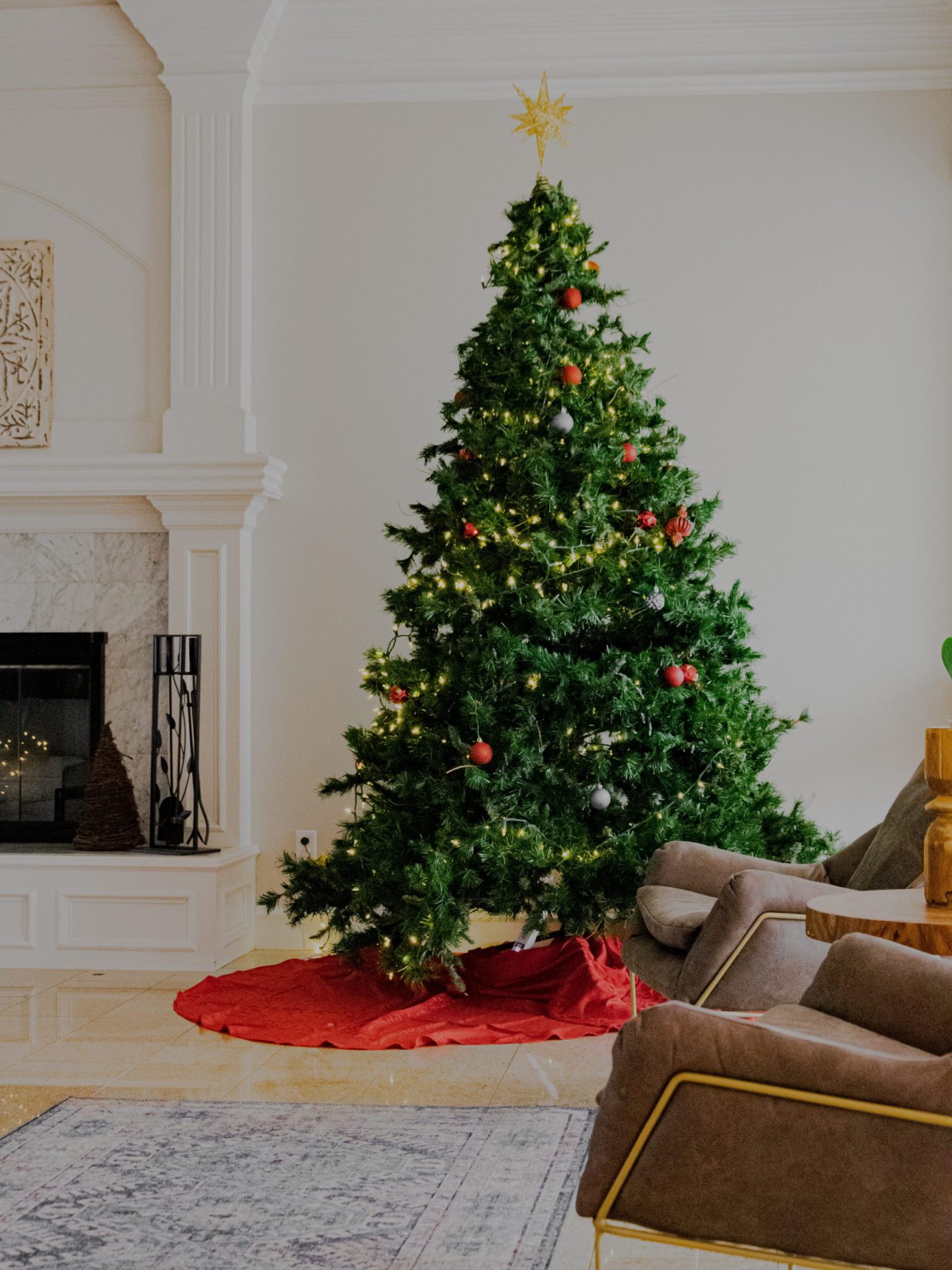 8. To skirt or not to skirt?
Often overlooked, a Christmas tree skirt is the finishing touch to your decorations and serves to balance the overall design of your Christmas tree. Be imaginative with your choice of tree skirt or decorative cover. You could try a willow tree skirt, faux fur or even a nice box.
Remember that a tree skirt can really dress a Christmas tree and add that perfect backdrop for all the gifts.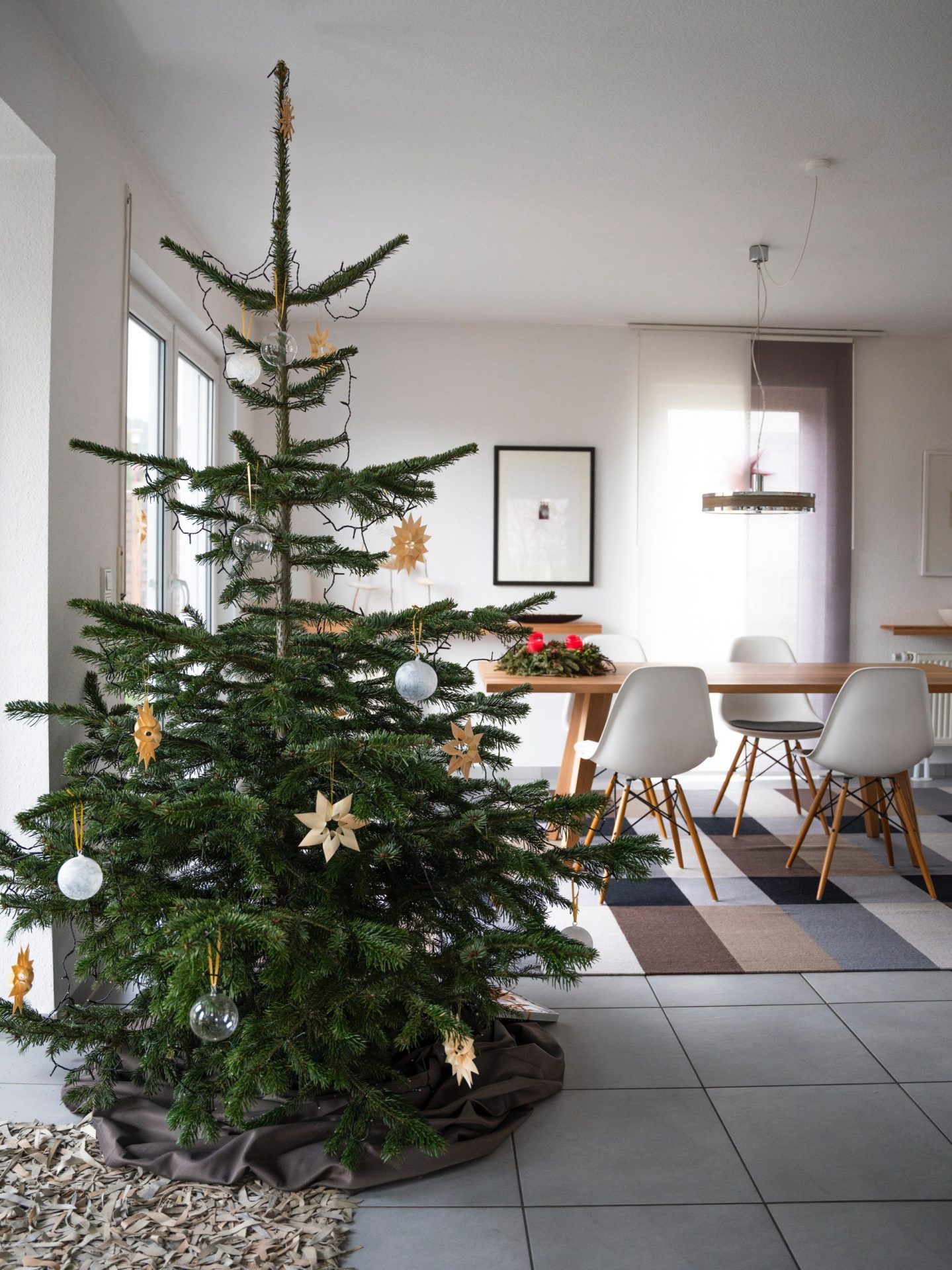 Still think your tree needs a few more finishing touches? How about filling the gaps with mini baubles or any of your special decorations? Experts suggest dusting tips of your tree with fake snow to add that special touch, or elevating the tree to make it look even more magnificent.
Whatever you do, we hope you found our tips helpful and we look forward to seeing your amazing Christmas trees!